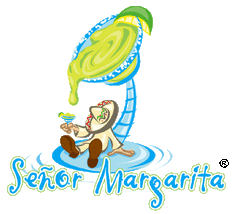 Flavors
Cocktail and Slushie
Señor Margarita's premium cocktail and slushie mixes are made with real fruit puree. Our most requested flavors include:
Margarita
Strawberry
Strawberry Margarita
Pina Colada
Lemonade
Don't see your flavor listed? Ask your order taker for cost and availability of other flavors.
Our mixes can be served with a variety of alcohol including: Tequila, Rum, Spiced Rum, Dark Rum, Mailbu Rum, Light Rum, and Vodka. All of Señor Margarita's premium mixes can be served without alcohol to create delicious tasting slushies that kids (and adults) love!
Cappuccino
Señor Margarita serves delicious tasting frozen cappuccinos. These can be served throughout your event or as a dessert option. Many wedding couples are now serving frozen cappuccinos as a complement to their wedding cake.
French Vanilla
Mocha
Espresso
Shake Mix
Chocolate
Vanilla
Check with your order taker for other flavors.
Consider having the best of both worlds by renting two or more machines. One machine for alcohol based frozen cocktails the other for non-alcohol based slushies or cappuccinos. Discounts apply for multiple machine rentals.
Only Señor Margarita supplied mixes should be used. Our mixes have been formulated to maintain the right frozen consistency that keeps the machine from getting damaged due to freeze-ups. We cannot guaranty the quality of drinks served if other mix is used and any machine damage caused by other mixes is the responsibility of the customer.

Call Señor Margarita at 847.550.6274 to reserve your machine today!