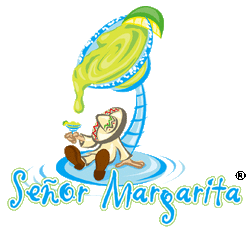 Welcome to
Señor Margarita®
---
We're Northwest Illinois' premier full-service source for frozen drink machine rentals, mix sales, and concession services. Because frozen drinks are Señor Margarita's specialty, we rent only the best machines and use only the finest premium mixes.

Don't confuse our machines with typical rental store models that can take an hour or more to freeze each batch of drinks. Because you have to completely exhaust the current batch before making the next one with those models, you're often left waiting for drinks to become ready instead of enjoying them.

In contrast, Señor Margarita's frozen drink machines will have your first batch of drinks ready in 10-15 minutes. And since you can add mix at any time to our machines, you'll enjoy an endless stream of drinks with minimal to no wait time between batches!

Our machines are easy to use. Just a flick of the wrist to great tasting frozen margaritas, daiquiris, pina coladas, non-alcoholic slushies, smoothies, shakes or a host of other drinks at your next party or event. No more noisy blenders, searching for a bag of ice, or morning after messes to deal with. Señor Margarita frees you from being stuck behind a blender and puts you back "into" the party.

Señor Margarita also serves delicious tasting frozen cappuccinos. These can be served throughout your event or a as a dessert option. Many wedding couples are now serving frozen cappuccino as a complement to their wedding cake.

Señor Margarita is committed to providing you with the absolutely best frozen drink experience. We've successfully helped our clients serve tens of thousands of frozen drinks...from small family functions to large corporate events and concert venues. We look forward to serving you and making your party a rockin' good time.

If life hands you lemons, make lemonade. If life hands you limes, make margaritas!

Call Señor Margarita at 847.550.6274 to reserve your machine today!