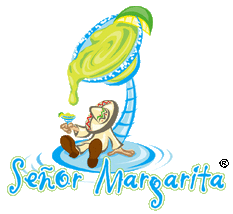 Rental Info
All Señor Margarita frozen drink machine rental packages include:
An easy to use, high-capacity "extremely quick" freezing frozen drink machine
Skirted cart with umbrella
Heavy duty extension cords
Your first bottle of frozen drink mix (excludes shake mix). Choose from a number of mix flavors.
Mixing of your first batch of mix
Mixing supplies and clear instructions on how to blend your next batch of frozen drinks
100 plastic cups and straws
Support number ​
Set-up of the machine including instruction on how to operate it
Frozen Drink Machine Rental Fees
Daily Machine Rental: $175.00
Multiple Machine Rental: $150.00 for each additional machine/per day
Check with your order taker for delivery/pick-up fees to your area
Additional Mix Fees
Cocktail and Slushie: $15.00 per bottle
Cappuccino: $15.00
Shake Mix: $65 a case (5 gallons)
See the flavors page for a listing of available flavors ​
While Señor Margarita provides just about everything, there are a couple of things you will need to provide:
Access to a 110 volt, 20 amp dedicated electrical circuit (no generators)

Alcohol (i.e. Tequila, Rum, Vodka, etc) if required for your drinks. Señor Margarita does not provide or supply any alcohol
The renter must be 21 years of age or older
The party spot, atmosphere, tunes, and thirsty guests
Designated drivers! Remember...designate before you celebrate!
Water
Reservations and Payment
Señor Margarita suggests you reserve your machine at least two weeks in advance of your party. Longer lead times are suggested during the summer months (especially
Graduation Season)
, holidays, and for traditional party days such as 4th of July, Halloween and the Super Bowl.
Prices subject to change.

Call Señor Margarita at 847.550.6274 to reserve your machine today!

Señor Margarita accepts payment by Cash, Check, or Credit Card. Prices are subject to change.